Our consultants have more experience than most. Several of our tax lawyers, tax consultants, and expert accountants have 30-40 years of experience or more.
Among our co-workers we have a former Tax Controller of the Volvo Group of companies, one an expert at the Tax Agency's legal department, and, finally, one is university teacher in tax law.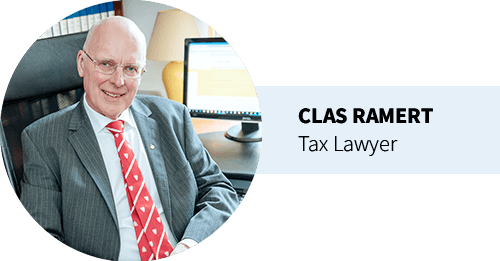 Clas Ramert was AB Volvo's head of taxation for over 13 years and also worked for Volvo prior to this in the group reporting field. Clas is a business administration graduate.
His 24-year career at Volvo's head office has provided substantial experience of financial issues and of tax law in particular. His expertise was especially in demand in respect to Swedish and international corporate structural issues, transfer pricing and tax lawsuits.
His role as head of taxation included, in addition to standard corporate matters, providing assistance to the tax policy department of the Federation of Swedish Industries on tax legislation affairs. Clas was also Volvo's representative on the tax committee of the West Sweden Chamber of Commerce and Industry.
Clas has been a tax consultant and entrepreneur since 1996. This has given him valuable insight into the problems faced by small businesses.
Clas most recent work has involved international matters where Swedish entrepreneurs carry on business operations abroad and vice versa, VAT issues, dividend payments and capital gains on shares in private companies (the so-called Swedish 3:12 regulations), option programmes, the non-profit sector and religious communities.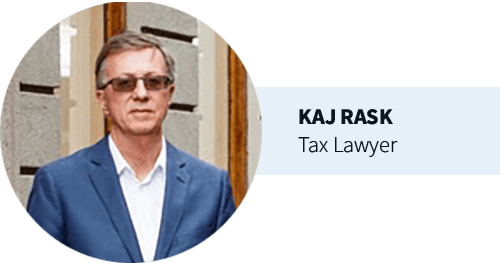 During some 40 years, Kaj Rask has been actively engaged working for the Swedish Tax Agency, initially as a Tax Auditor, thereafter as a Case Officer involved in litigation and finally as a Law Department expert at the Head Office of the Swedish Tax Agency.
With his roots in Western Småland, a province known for its strong dedication to entrepreneurship and small business, Kaj is actively involved in tax matters pertaining to entrepreneurial enterprises. Kaj is located in Halmstad but may be reached through our switchboard in Göteborg or through our contact form.
Kaj holds a B.A. and a Master's degree in Taxation and Corporate Law and has thorough knowledge of income taxation in general and corporate taxation in particular. In August of 2011, he was appointed Tax Consultant with Skattepunkten AB focusing on Swedish and international corporate taxation.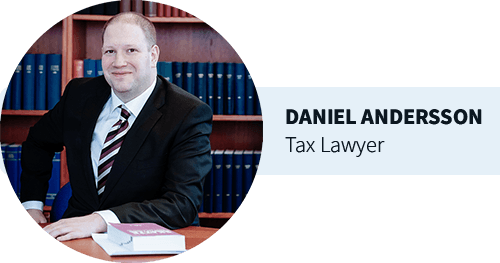 Daniel Andersson has a master's degree in business administration. He has been working as Case Officer and as Tax Auditor at the Swedish Tax Agency. At the Swedish Tax Agency, Daniel worked mainly with income tax and international tax law.
During his time at the Swedish Tax Agency he has also held internal courses especially in international taxation and company law. Since 2014, Daniel is employed as a lecturer at the University of Gävle where he teaches tax law.
Daniel works part time at Skattepunkten since 2016 and lives in Gävle. Daniel can be reached by calling our switchboard in Göteborg or through our contact form.
Daniel has worked at the Swedish Tax Agency for about 14 years, where his areas of expertise were international personal taxation, taxation of companies both private and public. Daniel is also experienced in tax auditing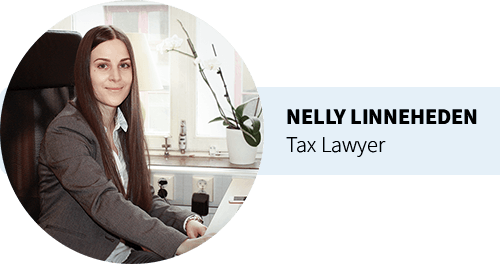 Nelly has a B.A. in legal science and a master's degree in tax law. In February 2017, she started working for Skattepunkten AB as an accountant. Therefore, she has experience of current recording of transactions, pay-roll administration, reconciliation of accounts and preparation of annual reports and income tax returns.
Over the years, she has also undertaken more advanced tax assignments in areas like taxation of companies, national- and international personal taxation such as when moving in- and out of Sweden, dividend payments and capital gains on shares in private companies (the so-called Swedish 3:12 regulations) and taxation arising from disposal of taxable assets.
Beyond Swedish, she speaks and writes fluent English. On her spare time, she likes to read literature and run long distances.
Nelly is located at the head office in Göteborg and can be reached by calling our switchboard or through our contact form.
Nelly has experience of representing individuals and companies in the relations with the Swedish Tax Agency and the Administrative Courts in matters such as tax auditing, taxation of crypto currencies, permanent establishment, income tax/social contributions and value added tax. With a judicial background and specialization in public law, she also has good knowledge in legal areas related to accounting- and taxation.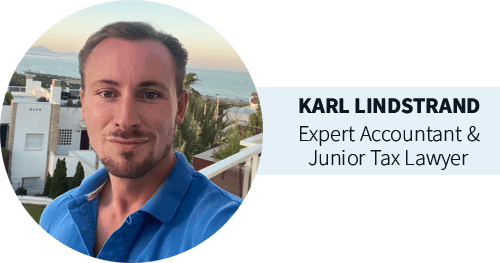 Karl Lindstrand has a Bachelor in Business Administration from Lund University. In addition, he has 120 higher education credits in law with a strong focus in tax law. Karl works with accounting, taxes, and ID06. Since 2019 he works at Skattepunkten.
In his spare time he likes to watch football and play golf. Beside his employment, he studies law at Stockholm University.
At present Karl is located at the Stockholm representative office.
Karl can be reached through our swithboard or through our contact form.
Karl works with accounting, taxes and ID06. Since 2019 he works at Skattepunkten.
Torbjörn has a Bachelor in entrepreneurship from Texas Christian University in Fort Worth, Texas. Has been working with web development and IT-security since 2003. At Skattepunkten, Torbjörn is responsible that Skattepunkten maintains highest security for all employees and our customers. Torbjörn is also responsible for updating content on our webpages.
Torbjörn help our customers with digital payslips, automatic integrations for accounting and invoicing, and tools that digitalise the accounting businesses.
Torbjörn is our IT-expert that helps us to maintain highest possible technical standard and at the same time develop our company towards the new technical solutions that many companies face. Torbjörn also has long experience of e-commerce.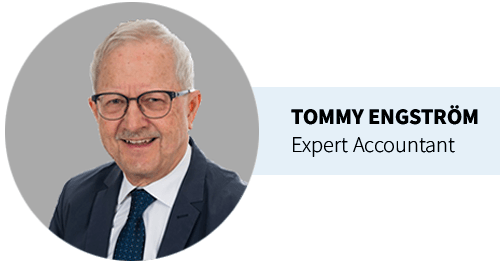 Tommy Engström has over 40 years of experience working in the field of economics, and IT. He has worked for Swedish companies both private and state-owned, international companies and associations.
He has also worked with salaries for more than 10 years for both officials and workers.
Speaks and writes fluent English. Together with his accounting skills he has also worked as an IT-pedagogue, IT-technician and IT-operator.
Tommy has worked at Skattepunktens Office Services since December 2016. He operates from Växjö and can be reached by calling our switchboard in Göteborg or through our contact form.
Tommy has wide experience of current accounts, client and supplier ledgers, customer invoicing, financial statements, monthly accounts, yearly accounts, VAT and employer declarations as well as budgeting and budget-follow up.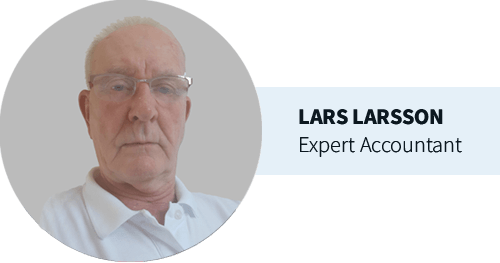 MBA (civilekonom) Gothenburg School of Economics/Handelshögskolan Göteborg, HHG. Professional career as Chartered Accountant/Certified Public Accountant, initially partner and head of region in a medium size Swedish audit firm, after that international partner in Price Waterhouse Europe, and later, after merger with Coopers Lybrand, partner in PricewaterhouseCoopers/PwC Sweden.
Fluent spoken and written English, good working knowledge of German and French, both written and spoken. Resident in Göteborg. Cooperating with Skattepunktens Office Services from February 2018. Lars can be reached through our switchboard in Göteborg or through our contact form.
Lars has more than 40 years´ experience of everything from Swedish privately owned companies to Swedish listed companies, foreign subsidiaries in Sweden and international groups. Following retirement in 2003 active as consultant and advisor to various Swedish privately owned companies and also partner and CEO of a startup company within biotech.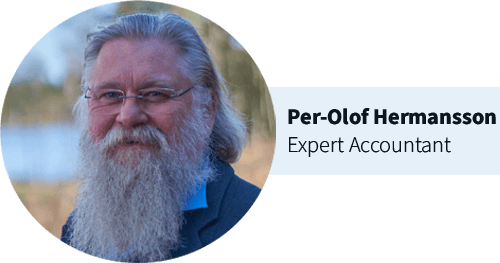 Per-Olof Hermansson has more than 35 years of experience in running companies in the IT-sector, developing and selling administrative software. He has a BA and a BD in the humanities. Born and raised in an English speaking country, he is fluent in English.
He is active in several non-profit organisations in executive positions and has for many years also been politically active at the municipal level.
Per-Olof can be reached through our switchboard in Göteborg or through our contact form.
For 35 years, Per-Olof has managed the accounting of his own companies, including closing of the yearly books, Annual Reports and tax declarations. He has also been the accountant of several national organisations and helped other entrepeneurs.